Company
MAPPY ITALIA SPA, since 1974 manufacturers of acoustic and thermal insulation
Experience and professionalism at your service
MAPPY ITALIA SPA is the first Italian market-leading company boasting over 45 years of experience in the acoustic and thermal insulation field. The company was created in 1974 and has established itself over the years thanks to the insights and skills of engineers and technicians from the chemical/plastic industry, who boast a rich experience in the sector. The pride of the main office is the production plant which occupies an area of over 22,000 square meters.
The company has implemented a Quality Management System based on the UNI EN ISO 9001 standard.
Every year within the company's strategies, the company's Management launches investments aimed at new market segments, implementing and verticalizing its production.
MAPPY ITALIA SPA offers a complete range of solutions; The products are available in different sizes to meet all of our customer's needs: sheets, rolls, custom cuts and gaskets. Single products are also available with personalized packaging. MAPPY ITALIA SPA has the latest generation machineries to process various types of materials such as rubber, foams and fibers.
Horizontal block splitting machinery
Convoluters
Hot and cold calanders
Profilers
Extruders
Acrylic adhesive coating plant
Hot-melt lamination plant
Flame lamination plants
Automatic cutting machineries
Die-cutting and plotter machineries
Thermoforming plants
Rewinding systems
Coil winding machineries
Cutting lines with automatic lathes
Carpentry
Automatic packaging plants
Laboratory
At the forefront with Mappy Italia's R&D Lab
MAPPY ITALIA SPA is deeply committed to the quality of its products and the development of new, environmentally sustainable raw materials. For this reason in 2010 MAPPY ITALIA SPA renovated its Research & Development Laboratory by expanding it and providing it with highly qualified staff and a new set of instrumentations capable of performing chemical and physical analysis in addition to mechanical tests according to the most important relevant international standards.
MAPPY ITALIA SPA collaborates with universities and international research groups and is supported by accredited laboratories and bodies for the certification of the acoustic, thermal and fire/smoke reaction properties of its products as well as LEED, CE and MED marking.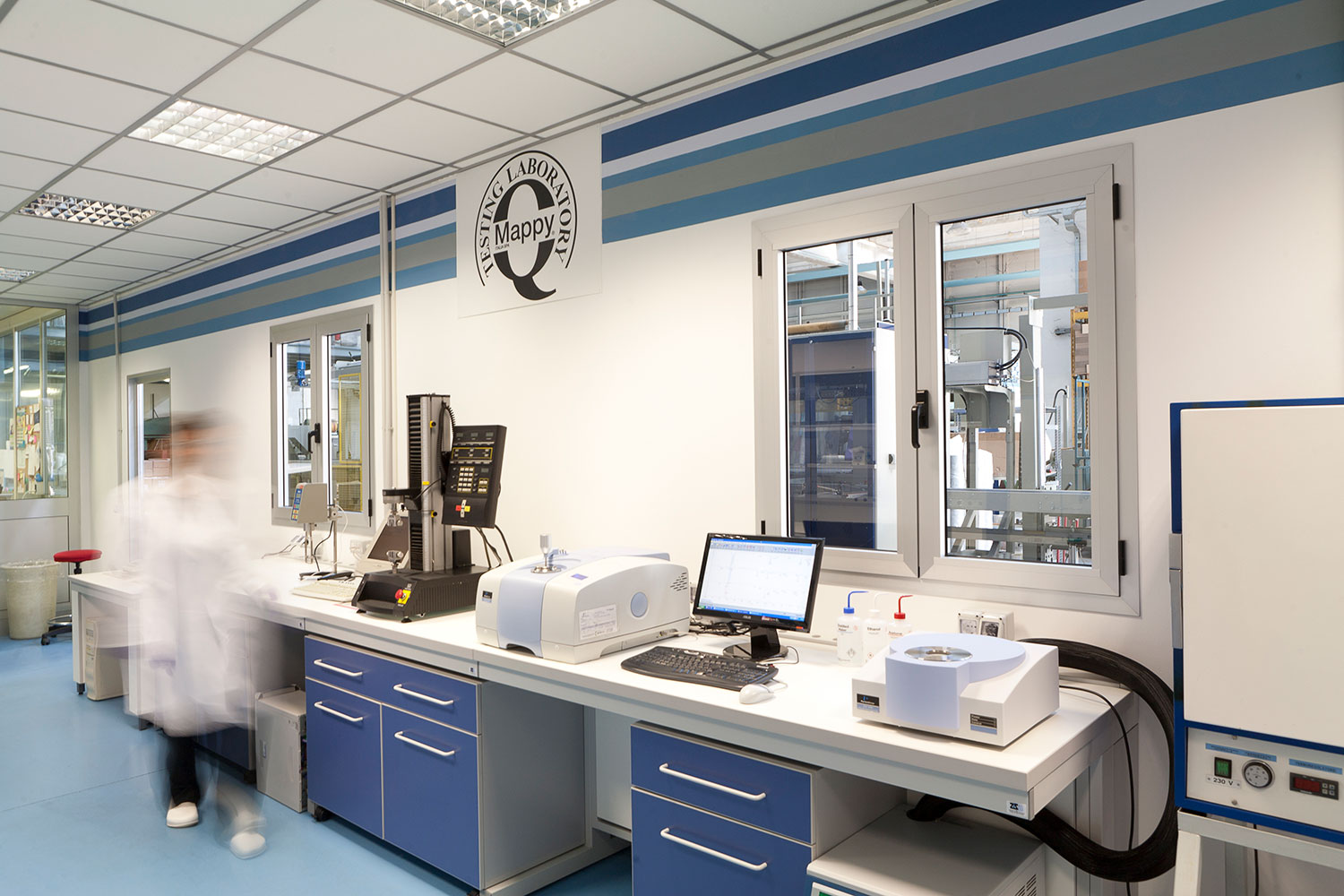 Green sensitivity
Build your own wellness respecting the environment
Having environmental awareness means discovering the potential of elements found in nature. From this simple consideration and the experience that MAPPY ITALIA SPA gained over the past fourtyfive years are born the products studied by MAPPY ITALIA SPA's laboratories and technical staff. Eco-friendly and technologically advanced products made of natural fibers and recyclable compounds.
In terms of circular economy and incentives for separate waste collection, please click here to download the list of our environmental labelings of packaging as per 94/62/EC and 97/129 /EC
"It is impossible to promote a culture of silence with no respect for the environment where we live."
For this reason, MAPPY ITALIA SPA applies environmental protection policies on a daily basis.
From the choice of its suppliers throughout the production process to packaging and transport, MAPPY ITALIA prefers materials and products which are: RECYCLABLE, REUSABLE, REGENERATED, with REDUCED CO2 EMISSIONS
MAPPY ITALIA SpA takes care of the quality of your request: for MAPPY ITALIA each product is unique, it has high performance characteristics and installation specifications. It is therefore the user's sole responsibility to ensure that the product and its installation are suitable for specific application and in accordance with current European legislation, national and regional (MAPPY ITALIA disclaims any responsibility for incorrect installations). Ask for the support of MAPPY ITALIA' s technicians to have a good result.
Contact our customer service to request other catalogues, technical data sheets, safety notes, certificates and specific information on how to install our products. This documentation replaces the previous one.
The data contained in it contributes to a general description of the product and the pictures are for illustration only. From the perspective of continuous quality improvement, the company reserves the right to modify or adapt the technical and dimensional information of the products included, even without communication.